Belgrade recently hosted the second Biotech Future Forum, an international conference that united over 500 participants and 40+ speakers from around the world. This event was organized by the Government of Serbia in collaboration with the World Economic Forum and UNDP, powered by BIO4 Campus. The program featured captivating keynote talks, government panel discussions, expert focus sessions, and a new addition called the Green District.
The conference began with opening remarks by the Prime Minister of Serbia, Ana Brnabić, Executive Director Mirek Dusek, and OECD Secretary General Mathias Cormann. Two government panels were conducted: "The Crucial Role of Governments in BioTech Innovation," featuring Jelena Begović, the Minister of Science, Technological Development, and Innovation in Serbia, and H.E. Mohamed Bin Taliah, Chief of Government Services of the UAE Government. Another panel titled "Investing in BioTech Innovation for Discoveries" included Dr. Ivan Rakonjac and Dr. Ami Appelbaum, with Walter Pasquarelli, Advisor on Tech policy, moderating both panels.
Keynote speakers included Prof. Timothy Lu from MIT, Co-Founder & CEO of Senti Biosences, and Dr. Reshma Shetty, Co-Founder of Ginkgo Bioworks, who engaged in a fireside chat with Prof. Robert Wolcott, Co-founder and Chair of The World Innovation Network – TWIN Global.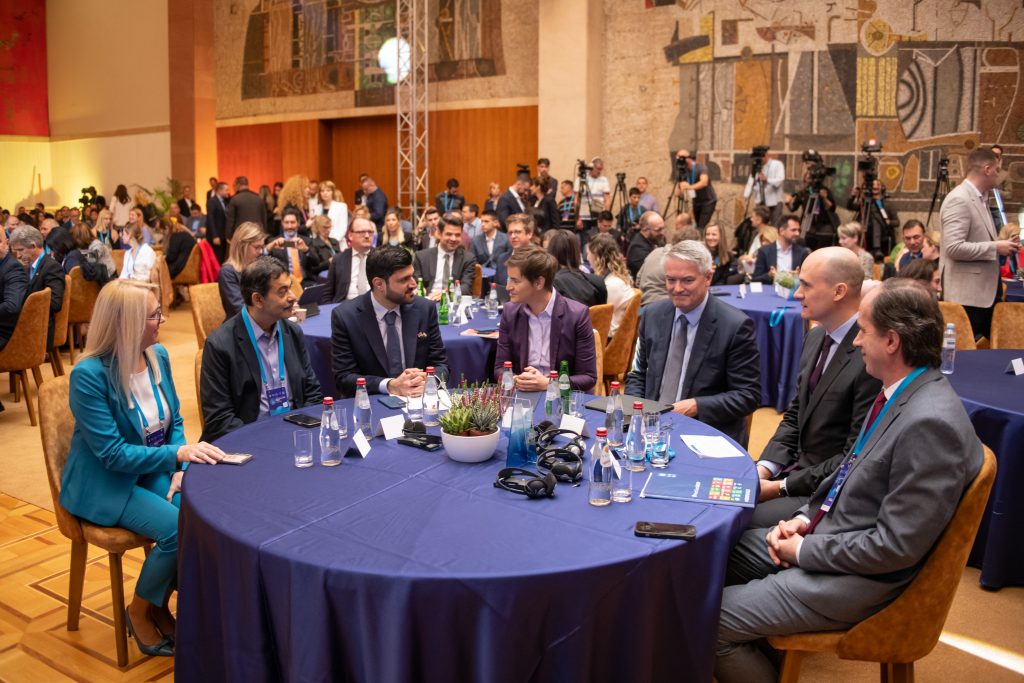 A new addition to this year's conference was the Green District, featuring an exhibition showcasing domestic startup grantees from UNDP and StarTech. Two panel discussions within the Green District included "Solutions for the Sustainable Future" and "The Role of Science and Innovation in Sustainable Agriculture, Environment, and Energy." This featured prominent figures such as Minister Jelena Begović and Minister of Mining and Energy Dubravka Đedović Handanović. Additionally, Prof. Robert Wolcott presented his new book, "Proximity."
The conference also included five expert sessions covering topics ranging from cardiovascular tissue engineering to genetic medicine and the impact of Data & AI in biotechnology.
Engineering a Healthier Tomorrow: Milica Radišić, Professor and Canada Research Chair in Functional Cardiovascular Tissue Engineering at the University of Toronto, served as both the keynote speaker and moderator for this session. Joining her were esteemed professionals in the field, including Prof. Jeffrey Karp from Brigham and Women's Hospital at Harvard Medical School with video presentation, Prof. Katja Schenke-Layland from the Institute of Biomedical Engineering at the University of Tübingen, Prof. Peter Loskill from the University of Tübingen, and Vice-Chair of the European-Organ-on-Chip-Society, and Prof. Sabeth Verpoorte from the Groningen Research Institute of Pharmacy at the University of Groningen.
BIO4 Campus: From Research to Innovation: Nenad Paunović, Director of the IT and Entrepreneurship team in the Office of the Prime Minister of Serbia, led this session. Joining him were experts in the field, including Dr. Ana Janić, Laboratory Head at the Department of Medicine and Life Sciences at Universitat Pompeu Fabra, Dr. Milenko Cicmil, CEO of Tasca Therapeutics and Venture partner at Cure Ventures, Prof. Milan Mrksich, Vice President for Research at Northwestern University, and Igor Printsev, Delivery Director at EPAM Systems.
Revolutionizing Healthcare: Unleashing the Potential of Genetic Medicine: Jelena Bojović, Director of the C4IR Serbia & Program Director in NALED, moderated this session. The panel included Dr. Mark Bale, an external advisor in genomics and bioethics, Prof. Yang YE, Deputy Director General at Shanghai Institute of Materia Medica, Dr. Branka Zukić, Full Research Professor at the Institute of Molecular Genetics and Genetic Engineering, and Dr. Ning Li, Vice President of BGI Group.
Data & AI: Accelerating Biotechnology's Potential: Dr. Branka Rakić, Senior Researcher at the Institute for Artificial Intelligence in Serbia, served as the moderator for this session. The expert panel included Dr. Guruduth Banavar, CTO and Head of Discovery AI at Viome, who delivered a video presentation, Dr. Alex Aliper, President of Insilico Medicine, Prof. Miroslava Cuperlovic-Culf, Senior Research Officer of National Research Council Canada, and Dr. Lu Zheng, Head of Value Based Partnerships and Digital Health, Europe & Canada, at Takeda.
Bridging Borders: Serbia's Biotechnology Footprint: Prof. Robert Wolcott, Co-founder and Chair of The World Innovation Network – TWIN Global, took the lead in moderating this session. The distinguished panel included Dr. Vladimir Cmiljanovic, Chairman and CEO of Swiss Rockets, Prof. Zoran Obradović, Distinguished Professor and a Center director at Temple University, Dr. Nataša Skoko, Head of Biotech Development Unit at ICGEB, Dr. Staša Stanković, Strategy Consultant in Genomics for Drug Discovery at AstraZeneca, and Prof. Vladimir Brusić, Professor in Computer Science at the University of Nottingham Ningbo.
To conclude this year's conference program, the second day of the Forum hosted two community meetings. The WEF Bioeconomy Workshop, chaired by Brynne Stanton, Thematic Lead in Bioeconomy at the Centre for the Fourth Industrial Revolution, World Economic Forum, provided a platform for in-depth discussions. Additionally, the GA4GH Community meeting, led by Dr. Thomas Keane, European Genome Phenome Archive (EGA) and the European Variation Archive (EVA), EMBL-EBI, outlined the Global Alliance for Genomics and Health's ambitious agenda for 2023.