Biotechnology is key to advancing solutions in fields such as medicine, agriculture, and the food industry. Growing investments and technological advances have accelerated its prosperity and application possibilities, and as such, biotechnology will define our future world.
In this context, the Government of the Republic of Serbia and its Centre for the Fourth Industrial Revolution in Serbia are investing enormous efforts in the development of an ecosystem that will be stimulating for the biotechnology's growth in our country, of which the International Conference Biotech Future Forum is a part of.
The goal of the Conference is to bring together the key drivers of development in this area in one place so that together, we can shape the progress and application of biotechnology, share knowledge, develop policies, and connect Serbia with the world biotech system. The Conference aims to become an annual gathering of the new biotech community in Serbia, positioning the country as a hub of new technologies, knowledge, and innovation.
Over the course of two days, the Conference brings together three sectors of society that have the greatest influence on the development of biotechnology – the public and private sectors, and the academic community. Topics represented at the conference include the fields of biomedicine, bioinformatics, and bioengineering, as well as environmental protection and renewable energy.
The Conference is organized in cooperation with the World Economic Forum and the United Nations Development Program (UNDP).
This year's Forum will be held on October 19-20, 2023, in Belgrade.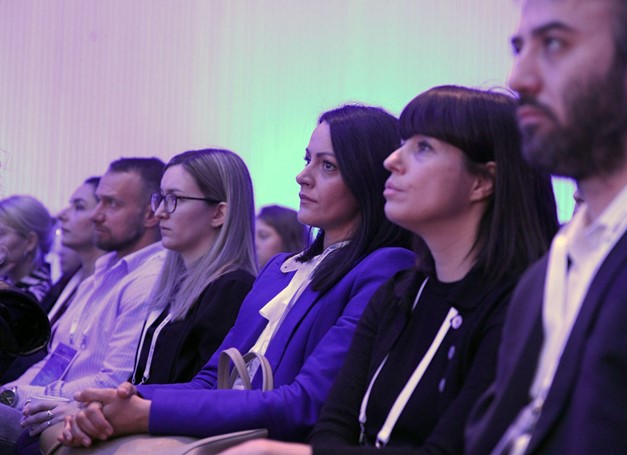 This year's International Conference Biotech Future Forum 2023, #BioTechBEG23 will be organized on October 19-20, 2023, at the Palace of Serbia in Belgrade. The conference will cover a wide range of topics from the fields of biotechnology, bioinformatics, and bioengineering. Additionally, it will introduce the field of green biotech, dedicated to identifying sustainable solutions and innovations, ultimately steering us towards a greener and environmentally conscious future. The forum will gather over 600 participants and speakers from over 30 countries around the world.
Ana Brnabić, Prime Minister of the Government of the Republic of Serbia
Mirek Dušek, Managing Director of the World Economic Forum

Mathias Cormann, Secretary-General of the Organisation for Economic Co-operation, and Development (OECD)
A Biotech Future for All: Government Strategies for Biotech Innovation
Moderator: Walter Pasquarelli, Tech & Society Manager at The Economist
Jelena Begović, Minister of Science, Technological Development and Innovation, Republic of Serbia
Mihailo Jovanović, Minister of Information and Telecommunication, Republic of Serbia
Mário Oliveira, Minister of Telecommunications, Information Technologies and Social Communication, Republic of Angola
Biotechnology has become integral to the advancement of our critical industries, including health, agriculture, energy, materials and industrial processes. Governments must prioritize strategic investments, cross-border collaborations, and innovative partnerships to address challenges in these sectors and create new opportunities for growth. How can these efforts foster a thriving biotech ecosystem for all? Hear from government leaders across the globe on their strategies and priorities to advance biotech innovation.
Green Showroom:  Biotech for Sustainable Future
Moderator & Keynote: Prof. Vladimir Crnojević, Director of the BioSense Institute
Step into the next generation of biotechnologies, showcasing revolutionary start-ups creating new solutions for the future of energy, environment, and agriculture. Immerse yourself in a series of engaging talks, workshops, and panels led by international experts. Be guided through a series of exhibits, unveiling the latest sustainable solutions and innovations, driving us towards a greener, more sustainable future.
Parallel Session – Innovative Biotechnology 1.0
Session 1. Engineering a Healthier tomorrow
Moderator & Keynote: Prof. Milica Radišić, Professor and Canada Research Chair in Functional Cardiovascular Tissue Engineering at the University of Toronto
From cutting-edge prosthetics and implantable devices to personalized medicine and regenerative therapies, biomedical engineering revolutionizes medical treatments. However, a successful innovation does not in itself guarantee its successful application and scaling of these life-changing solutions to the general public—with many regulatory, funding, manufacturing, market and infrastructure challenges. How will the next generation of biomedical engineering solutions overcome these hurdles to transform healthcare on a global scale? Learn from biomedical engineers and experts on how the value of developments in biomedical engineering can be unlocked.
Session 2. Data & AI: Accelerating Biotechnology's Potential
Moderator: Dr. Branka Rakić, Senior Researcher at the Institute for Artificial Intelligence in Serbia
Biotechnology interfaces with cutting-edge technologies like data science and artificial intelligence, enhancing the analysis of complex biological data and accelerating research discoveries. This symbiotic relationship multiplies the speed and scale at which new solutions are developed across all biotech sectors. How can we further leverage data and AI to maximize the positive impact of biotechnology on society's most pressing challenges? Hear from experts in emerging technologies on how data and AI can be applied to create new opportunities in biotechnology.
Dr. Timothy Lu, Professor at Massachusetts Institute of Technology (MIT) and Co-Founder & CEO of SentiBio
Parallel Sessions – Innovative Biotechnology 2.0
Session 1. Revolutionizing Healthcare: Unleashing the Potential of Genetic Medicine
Moderator: Jelena Bojović, Director of the C4IR Serbia & Program Director in NALED
The realm of genetic medicine is reshaping the landscape of healthcare, introducing personalized and targeted approaches to treatment. In this session, we explore the imperative collaborations between academia, industry, and healthcare providers that are pivotal in propelling these groundbreaking genetic advancements into mainstream medical practice. Join us for an insightful conversation on the strategies and partnerships that will expedite the integration of genetic medicine into global healthcare systems, ushering in a new era of precision and effectiveness in patient care.
Session 2. BIO4 Campus: From research to innovation
Moderator: Nenad Paunović, Director of the IT and Entrepreneurship team in the Office of the PM of Serbia
The development, application and commercialization of biotech attracted over USD 21 billion by private investors in 2022. This funding is critical to scale biotech solutions, but many other concerns including IP management, regulatory compliance, market viability, communications and talent hold back the industry. How do we bridge the gap between scientific discoveries and practical applications, enabling the translation of biotechnological breakthroughs into real-world products, services, and solutions? Join a discussion with biotech investors, researchers and business leaders on effective models of technology transfer.
Bridging Borders: Serbia's Biotechnology Footprint
Moderator: Prof. Robert Wolcott, Co-founder, and Chair of The World Innovation Network (TWIN Global)
Discover how Serbian biotech experts abroad are influencing the global industry. Join our panel of accomplished scientists as they share insights into their groundbreaking work, highlighting the vital role Serbia plays in shaping biotech advancements worldwide through cross-border collaboration and innovation.
Dr. Reshma Shetty, Co-Founder, Ginkgo Bioworks
Closing remarks: C4IR Serbia & World Economic Forum
Community working meetings (By invitation only)
Meeting 1. WEF Bioeconomy Workshop
Meeting 2. GA4GH Community
The first International Conference Biotech Future Forum, #BioTechBEG22 was held on October 20-21, 2022, at the Palace of Serbia in Belgrade, Serbia. The Conference welcomed over 600 participants and speakers from 30 countries around the world, with a primary focus on the topics of biotechnology, bioinformatics, and bioengineering, with a special emphasis on medicine and healthcare.
The Conference was officially opened by the Prime Minister of the Government of the Republic of Serbia, Ana Brnabić, and the President of the World Economic Forum, Børge Brende. During the event, they officially presented the Centre for the Fourth Industrial Revolution in Serbia as a joint initiative.
Opening remarks & Launch of the C4IR Serbia
Ana Brnabić, Prime Minister of the Government of the Republic of Serbia
Børge Brende, President of the World Economic Forum
Achim Steiner, Administrator of the United Nations Development Programme – video message
Leadership Panel: Building a Biotech Nation
Opening remarks: Omar Sultan Al Olama, Minister of State for Artificial Intelligence, UAE – video message
Moderator: Marta Arsovska Tomovska, Advisor to the Prime Minister of Serbia
Branko Ružić, First Deputy Prime Minister and Minister of Education, Science and Technological Development, Serbia
Yves Iradukunda, Permanent Secretary at the Ministry of ICT and Innovation, Rwanda
Khalfan Juma Belhoul, CEO of Dubai Future Foundation, United Arab Emirates
Dr. Fabio Scano, WHO Representative, Serbia
Data Session: Data Science in Biotechnology
Moderator and chair of the session: Dr. Nevenka Dimitrova , VP Data Science and Data Services at the GlaxoSmithKline
Dr. Mihailo Jovanović, Director of the Office for IT and eGovernment, Serbia
Dr. Ali Taha KOÇ, Head of the Digital Transformation Office, Türkiye
Dr. Branka Rakić, Senior Researcher, Institute for Artificial Intelligence, Serbia
Dr. Milan Petković, Head, AI & Data Science at the Philips Company, Netherlands
Deep-Dive Session: How we do it?
Moderator: Kelly McCain, Head of Healthcare Initiatives, World Economic Forum
Jeedigunta Satyanarayana, Chief Advisor at the Centre for the Fourth Industrial Revolution India
Jelena Bojović, Director of the Centre for the Fourth Industrial Revolution Serbia
Joris Cyizere, Acting Managing Director of the Centre for the Fourth Industrial Revolution Rwanda
Marcos Vinícius de Souza, Director of the Centre for the Fourth Industrial Revolution Brazil
Dr. Yehudit Cohen, Scientific Director at MIDGAM – Israel National Biobank for Research, Israel
Family photo & Lunch break
Prof. George Church, Founding Core Faculty & Lead of Synthetic Biology at the Wyss Institute at Harvard University; Professor of Genetics at Harvard Medical School and Professor of Health Sciences and Technology at Harvard and the Massachusetts Institute of Technology (MIT); Director of the National Institute of Health Center of Excellence in Genomics Science – online
Academia session: Biotechnology – How is it shaping our future?
Moderator and chair of the session: Dr. Jelena Begović, Director of Institute of Molecular Genetics and Genetic Engineering (IMGGE) and Full Research Professor
Dr. Charles Ruranga, Director of the African Centre of Excellence in Data Science, Rwanda
Dr. Claudia Vickers, Chief Scientific Officer at Eden Brew, Australia
Kiren Naidoo, CEO of Zdravlje A.D. and Founder of Frontier Pharma, UK
Martin Mössler, Managing Director of Science Park Graz, Austria
Dr. Nataša Skoko, Head of Biotechnology Development Unit at International Centre for Genetic Engineering and Biotechnology, Italy
Business session: Accelerating innovation
Moderator and chair of the session: Prof. Robert C. Wolcott, Co-Founder and Chairman of The World Innovation Network (TWIN) and Adjunct Professor of Innovation at Booth School of Business at University of Chicago & Kellogg School of Management at Northwestern University
Dan Vahdat, CEO of Huma, UK
Gloria Seibert, Founder & CEO at Temedica, Germany
Dr. Milan Obradović, Senior Global Scientific Director Integrated Healthcare Solutions, Global Medical Affairs at Roche, Switzerland
Dr. Ulrich A.K. Betz, Vice President Innovation in Merck, Germany
William Moss, CEO of Seven Bridges Genomics, USA
Dr. Jelena Begović, Director of Institute of Molecular Genetics and Genetic Engineering (IMGGE) and Full Research Professor
Nenad Paunović, Director of the IT and Entrepreneurship team in the Office of the Prime Minister of Serbia
Dr. George Yancopoulos, Co-founder, President and Chief Scientific Officer of Regeneron Pharmaceuticals & President at Regeneron Research Laboratories – online

World Economic Forum's C4IR Meeting (closed)
Round table discussion of the Centers for the 4th Industrial Revolution